Symposium SIRGAS2021
The symposium SIRGAS2021 will be held from Nov 29 to Dec 1, 2021. It is hosted and organised by the Instituto Geográfico Nacional of Peru. For more details, please visit https://app.ign.gob.pe/simposio/
Jornada: Hacia el establecimiento de la Red GNSS Continua de República Dominicana
En este evento se realizaron presentaciones sobre la experiencia de algunos países de las Américas en el establecimiento y operación de redes GNSS de operación continua, más específicamente sobre la cooperación entre diversas agencias y el establecimiento de alianzas estratégicas para la operación de este tipo de redes como marcos de referencia nacionales. Las presentaciones se encuentran disponibles en nuestro repositorio para 2021.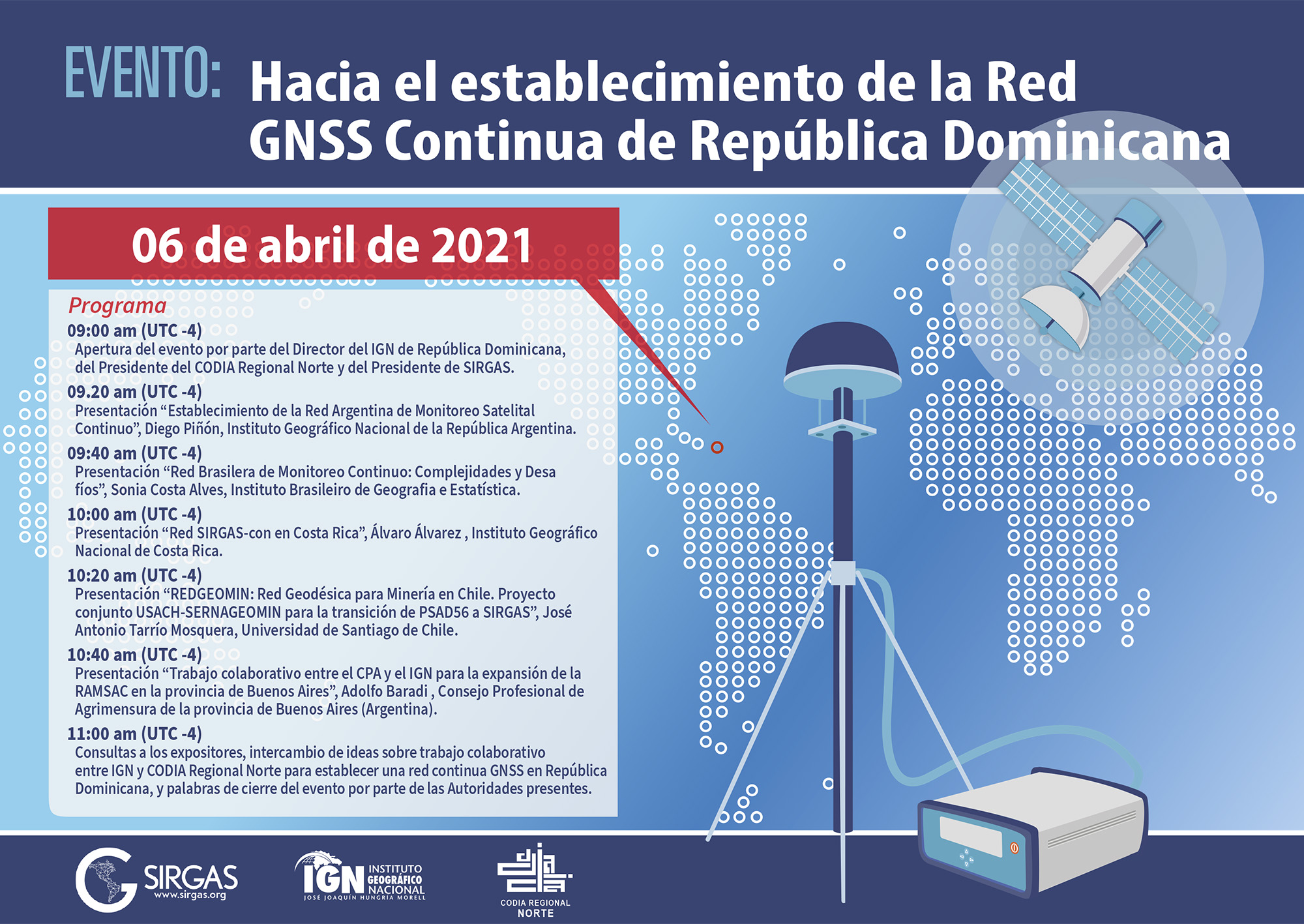 Latest SIRGAS Webinar
Presentation in PDF, video in YouTube, other webinars
New SIRGAS Bylaws and SIRGAS Resolutions 2020
During the virtual Symposium SIRGAS2020, the SIRGAS Directing Council approved an updated version of the SIRGAS Bylaws and released important Resolutions concerning the establishment of the GRFA Working Group within the framework of the UN-GGIM: Americas Regional Committee, the Work Plan of SIRGAS for the year 2021, the drafting of a new Joint Action Plan of PAIGH, UN-GGIM Americas, SIRGAS and GeoSUR, and the acknowledgment of people and organisations contributing to SIRGAS.
A new SIRGAS Experimental Processing Centre in PERU
The Instituto Geográfico Nacional of Perú (IGN-Pe) acts as a SIRGAS Experimental Processing Centre since the GPS week 2120 (August 23, 2020). The main characteristics of this Processing Centre are:
Name: Instituto Geográfico Nacional de Peru
Abbreviation: PER
Processed stations: AACR ABMF ABPW AM04 AMTE AN02 ANDS AP01 AQ01 ARCA AREQ AY02 BECE BEJA BNGA BOGT BRMU CHEP CHET CIQE CJ01 CN19 CN30 COL2 CRLP CRO1 CS01 CULC DARI FQNE GLPS GODE GOL2 GOLD GRE1 GUA HC03 HV01 IC01 ICAM ICEP IDGO INEG IPAZ JU03 LB01 LI01 LIMN LR01 MANA MD01 MDO1 MEDE MERI MEXI MTY2 NAS0 NEIL OAX2 PASM PI01 PIE1 PU02 RDSD RIDC SAGE SCUB SM01 STJO TAMP TC01 TEG2 TOL2 UC01 UCRI UGTO USNO VIL2 VNDP ZARZ
Software: GAMIT GLOBK 10.71
With this new experimental processing center, SIRGAS is approaching the goal of having a scientific GNSS data processing centre in each country in the region. SIRGAS thanks IGN-Pe for this initiative and for its continued support in all activities related to the establishment, maintenance, and development of the reference framework for the Americas.